ANNUAL REPORT 2019 - FOREWORD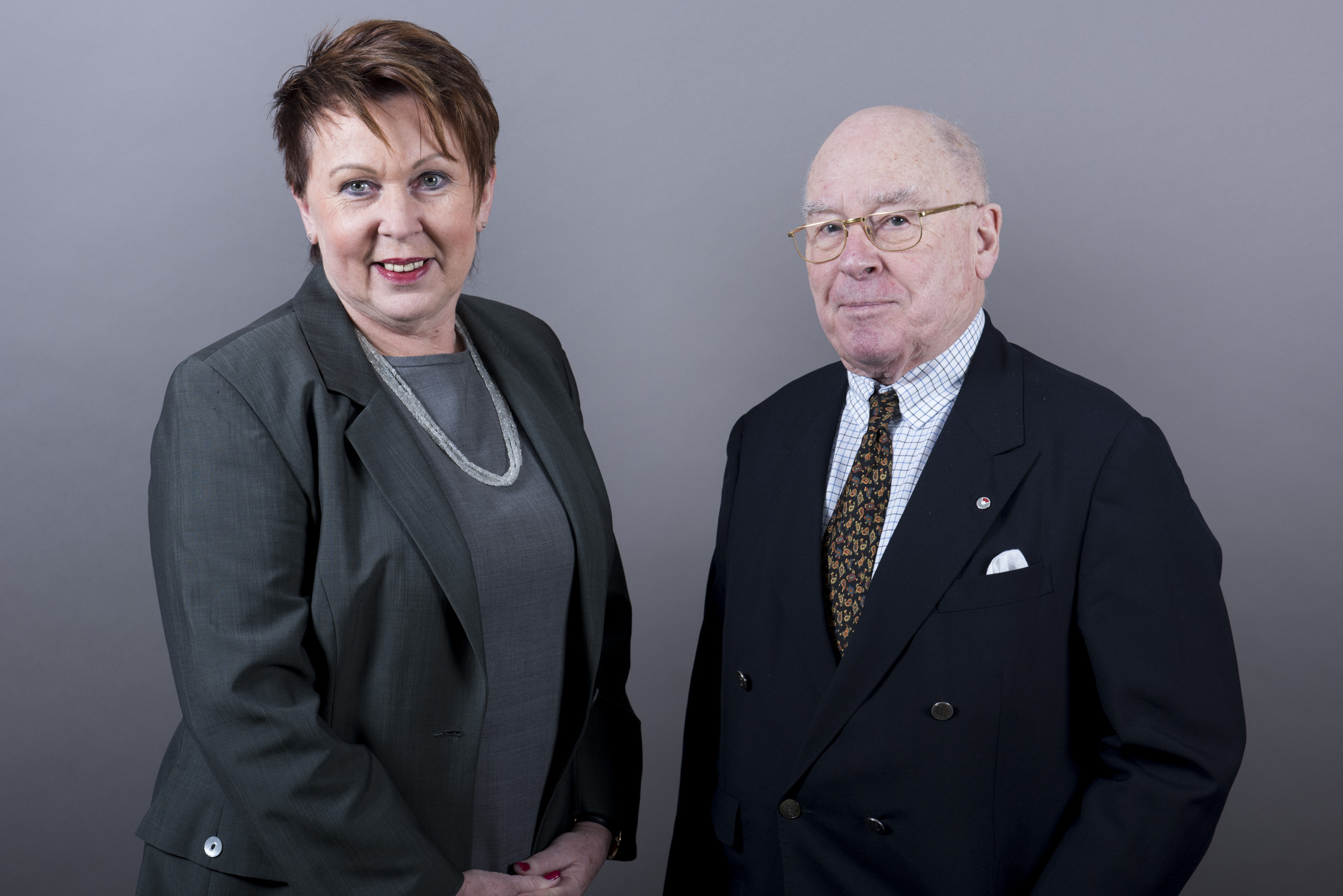 Being the Austrian organization for standardization and innovation, Austrian Standards International has an important responsibility: The development of standards is to provide solutions to global challenges such as climate change, smart technologies, the aging society and many more. Furthermore, standardization is to:
foster innovation,
promote the European economy,
facilitate global trade,
support sustainable development, and
protect the health and safety of Austrians.
For 100 years, Austrian Standards has contributed to strengthening Austria's voice at the European and international level by expanding the leading role of our country in national, European and international standardization activities. This is also reflected by the activities undertaken last year. In addition to our participation in European research projects and regular working meetings with other standardization organizations, more than 4,400 Austrian experts from diverse sectors again contributed to shaping market rules that improve Austria's competitiveness in 2019. Internally, too, Austrian Standards continuously strives for optimization: Last year, for example, significant work was undertaken to prepare our brand rebrush and the relaunch of our website. Moreover, groundworks also started for our anniversary year. Read more about our activities of 2019 in this Annual Report.
We invite you to scroll through our digital Annual Report.
o. Univ.Prof. DDr. Walter Barfuß
President

DDr. Elisabeth Stampfl-Blaha
Managing Director

Highlights
New co-operation projects, new partners, new and successfully completed projects and numerous encounters — this is what characterized Austrian Standards and its environment in 2019.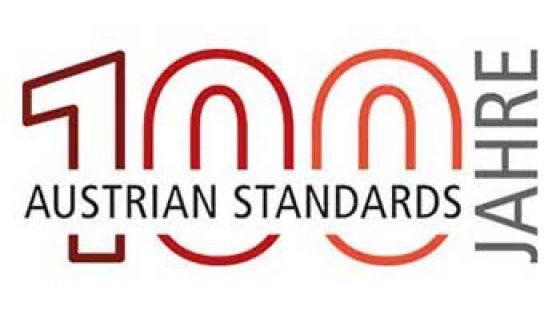 Kick-off of preparations for 100th anniversary
2019 was characterized by the start of preparatory work for the 100th anniversary in 2020. Trust, safety, innovation and diversity – those timeless values are our success factors that we want to highlight in our anniversary year. We already began last year to plan activities for 2020/2021 that make it possible to experience the benefits and relevance of standards and standardization. We also took aboard partners like the City of Vienna for these anniversary activities. We are looking forward to launching them in the autumn of 2020!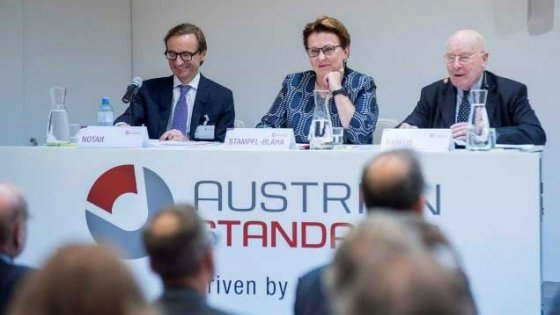 News from the Presidents' Group and Presidential Council
Going into the future with a strong international network – that objective was in the focus of the General Assembly 2019. The Presidential Council was joined by nine new members from diverse fields in 2019 and now already has 55 members. There were changes in the Presidents' Group in 2019 as well: Dr. Matthias Tschirf, Head of Division at the Federal Ministry for Digital and Economic Affairs, was presented as the new federal representative and a new committee for standardization issues chaired by Prof. Dr. Manfred Matzka was established.
Living Standard Award 2019
Standards – innovative and practice-oriented: On 24 January 2019 it was already for the fifth time that domestic enterprises received the Living Standards Award for the development and application of innovative standards. The Award winners BDI-BioEnergy, Blue Danube Robotics, S. Spitz, Voith Paper and MAM Babyartikel presented their application-oriented solutions in fields such as artificial intelligence and the aging society.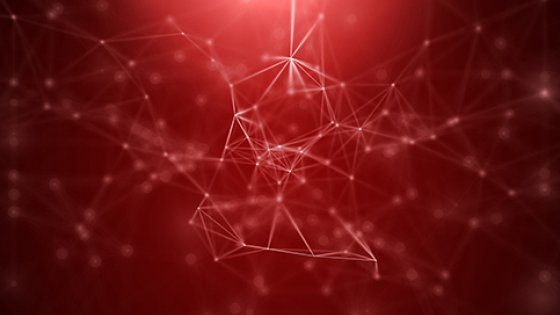 A new web presence for Austrian Standards
To optimize the usability of our website for visitors, a dedicated project team was set up at Austrian Standards in 2019 to take the website of Austrian Standards to the next level in the #Digistar2020 project. The new website will be launched upon the publication of the digital Annual Report 2019 in early May 2020.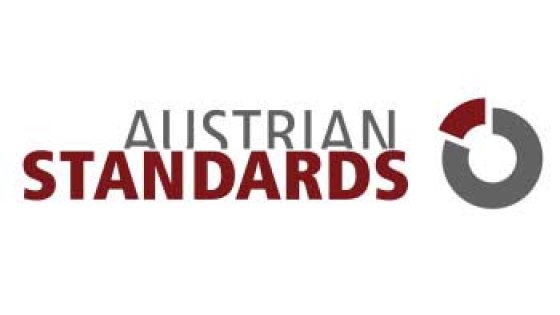 Rebrush of the Austrian Standards brand
In addition to the new website, the brand experience of Austrian Standards was also further developed in 2019. This rebrush is to make the Austrian Standards brand more modern and more appealing. The changes will become tangible step by step at each and every touchpoint along the customer journey from 2020 on. However, the design of the brand did not only develop with regard to its appearance, but also with regard to its substance as we raised the authentic feel of our presentation by means of guiding principles and a new corporate wording guide.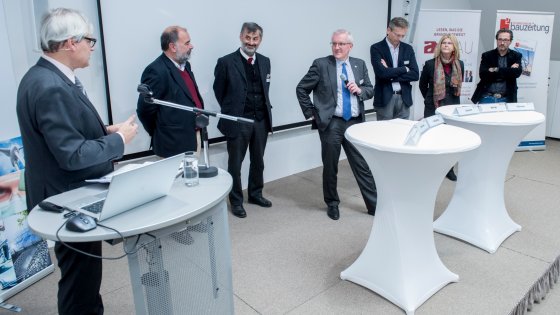 Annual Conference on Construction Law and Building Standards 2019
Together with the Federal Construction Trade Organization of the Austrian Federal Economic Chamber, Austrian Standards already organized the second Annual Conference on Construction Law and Building Standards within the framework of the joint initiative "Austrian dialogue forum on construction – working together for clear and simple rules for building". Around 160 experts active in the construction industry discussed solutions to problems of construction costs, liability issues and the application of construction rules at Austrian Standards on 5 December 2019.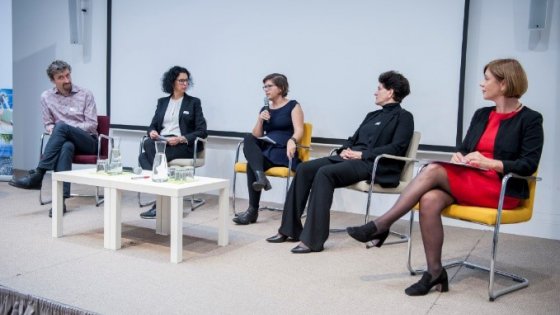 This was the 3rd IoT Expert Congress
International flair at the IoT Expert Congress 2019 on 23 October 2019: the audience also included a 24-member delegation from Russia. In international exchanges, exciting discussions took place, controversial approaches were set out and surprising perspectives on digitalization were presented. In this vein, the focus shifted on the role of standardization as a driver of innovation for a digital future.
Target vision for standardization
From July to October 2019, we asked the members of the Presidential Council about their views on trends and challenges up to the year 2030. In more than 50 semi-structured interviews, we gathered hypotheses, experiences and opinions. The evaluation of the responses revealed a total of 12 top subjects. These will form the basis for a broad dialogue on the development of a vision for the role of standardization in Austria and, above all, the role of Austria in standardization.
Standards as a significant contribution to climate strategies
Austrian Standards put the focus on the topic of climate protection in 2019. After all, a lot is going on in this field in standardization: Recent findings show that – based on knowledge transfer through standards – it is possible to reduce CO2 emissions by 36 percent throughout Austria within ten years. Moreover, an international standard specifies how carbon neutrality can be proven and verified. Thereby, standards make invaluable contributions to climate protection.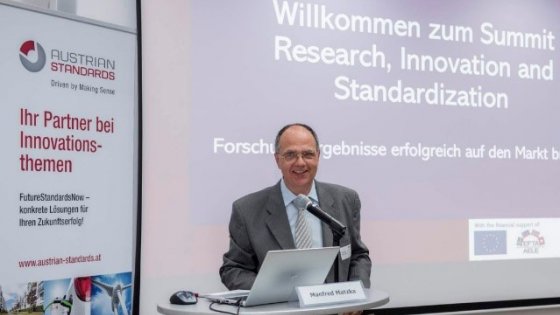 Standardization as a bridge between innovation and market
Research, innovation and standardization: The Austrian Standards Summit held in June 2019 demonstrated to more than 80 guests how these three elements are linked in presentations of practical examples, European initiatives and concrete results. At a conference on "Boosting innovation through standards" in Brussels, CEN-CENELEC also highlighted how standardization can contribute to bringing innovations to the market.
Focus on China's standardization strategy
At a Business Breakfast hosted by Austrian Standards in co-operation with the Austrian Electrotechnical Association (OVE) and the Austrian Chinese Business Association (ACBA) on 30 April 2019, 60 guests discussed the economic impact of China's influence on international standardization with high-level China experts. The intensification of trade relations and exports to China is not imaginable without the development of, and compliance with, international standards today. Standards define product characteristics, interfaces to other products, their quality as well as methods for verifying quality.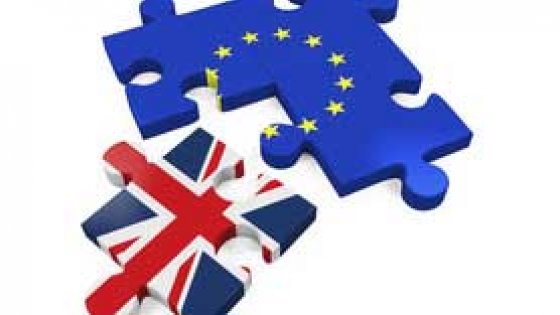 Brexit and European standardization
Brexit largely dominated the news in 2019. In European standardization, the consequences of Brexit were discussed as well. Austrian Standards organized an interview on this issue with Scott Steedman (British Standards Institute - BSI), Elisabeth Stampfl-Blaha and the daily Salzburger Nachrichten in order to take a closer look at the impacts. As it is critical for the British as well as the continental European economy that BSI stays in the European standardization network in future, there are intensive talks on adjustments to the criteria for CEN/CENELEC membership.
Working meeting with JSA at Austrian Standards
As the EU-Japan Economic Partnership Agreement entered into force in February 2019, Austrian Standards invited the Japan Standards Association (JSA) to a working meeting on 21 February 2019. In particular, it addressed the opportunities of digitalization and globalization in the development of standards. Thereby, a first step was made towards deepening relations between Japan and Austria.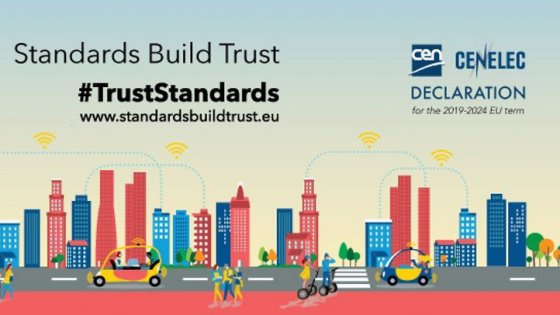 Standards for a future-oriented Europe
Cutting red tape, promoting new technologies, advancing research and bringing innovations to the market faster: there are numerous objectives in Europe. In the run-up to the European Parliament elections 2019, CEN-CENELEC launched the declaration "Standards Build Trust" and thereby again stressed the need for harmonized standards. As a common European language, standardization forms the basis of a well-functioning European single market.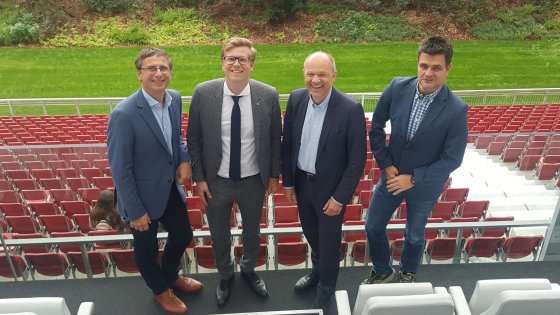 Bespoke standards management for municipalities
The tasks of local government are manifold and in many fields, standards (e.g. ÖNORMs) help municipal administrations in performing those tasks efficiently and safely. Digital management systems provide access to all standards at the push of a button whenever they are needed. Austrian Standards wants to better understand the requirements of municipal administrations in order to optimize the user friendliness of online solutions. Therefore, a "municipal pilot project" was launched for the City of Graz together with Mag. Martin Haidvogl who heads the public administration of Graz and serves on the Presidential Council of Austrian Standards, in 2019. In 2020, the pilot project will be expanded in co-operation with the Association of Austrian Municipalities and the Austrian Association of Cities and Towns.
News from the world of international standardization
2019 also was an eventful year for ISO: The ISO General Assembly held in Cape Town discussed the ISO Strategy 2030 with a focus on reaching the Sustainable Development Goals (SDGs). Moreover, Edward Njoroge from Kenya took office as the first African ISO president on 1 January 2020, succeeding to John Walter who had been ISO president since 2018. For his presidency, he set himself the task to strengthen and deepen the involvement of developing countries in ISO activities.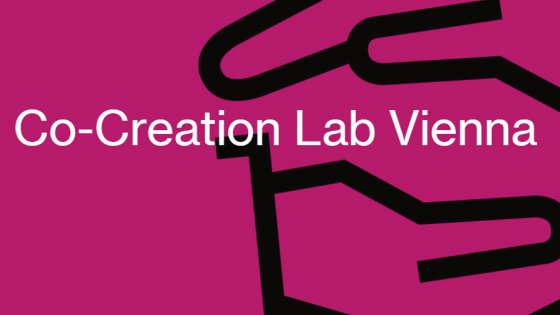 StandardiZation 2.0
Are standards close enough to the needs of users? That question is asked by standardization organizations all over the world. After all, standards vitally depend on their acceptance in the market. Austrian Standards is aware of the relevance of a customer-focused mindset and addressed the future of collaborative working at the Co-Creation Lab of the Vienna Business Agency in 2018/2019.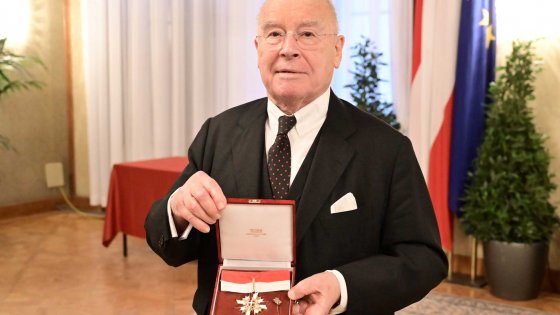 Vienna's highest honour for Walter Barfuß
On 17 December 2019, Vienna's Mayor and Governor Michael Ludwig presented the Grand Decoration of Honour in Gold for Services to the Federal Province of Vienna to Walter Barfuß and expressed the hope that Barfuß would continue to input his expertise "in building bridges between the city and the economy in future". The eulogy was given by Walter Ruck, President of the Vienna Economic Chamber.
Research projects 2019
In 2019, Austrian Standards participated as a consortium partner in diverse EU research projects, such as CEWASTE (voluntary, innovative certification scheme for waste electrical and electronic equipment aimed at recycling, in particular, rare earths), eFactory (networking of platforms for agile manufacturing – Industry 4.0), STAIR4SECURITY (supporting security-relevant research and optimized integration of the security sector through standardization), LEVEL-UP (development of innovative strategies and solutions for extending the life of large industrial equipment through smart technologies) and FORMOBILE (gathering evidence on cybercrime on mobile devices for court proceedings).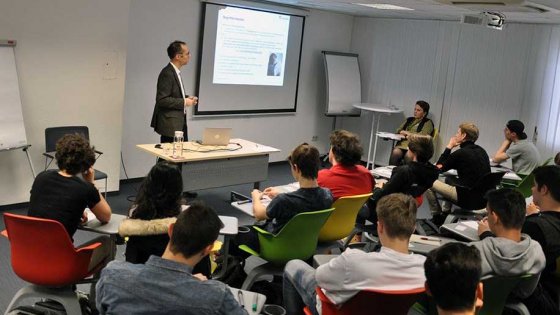 Next generation: Insights into the world of standardization
On a study visit of the polymer engineering course of TGM, around 30 students of year 4 came to Austrian Standards to get background information on standardization and the various departments. The Daughters' Day 2019 again attracted highly interested girls as well.
Facts & Figures
Important and interesting information on Austrian Standards International

MEMBER OF
ISO – International Organization for Standardization
CEN – European Committee for Standardization
ETSI – European Telecommunications Standards Institute

CERTIFIED & ACCREDITED
Certified according to ISO 9001, ISO 29990 and Ö-Cert
Accredited certification body for products according to ISO/IEC 17065
Notified certification body for the EU Construction Products Regulation
Assessment according to the CEN membership criteria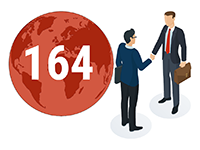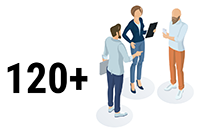 142 committees with 282 working groups at Austrian Standards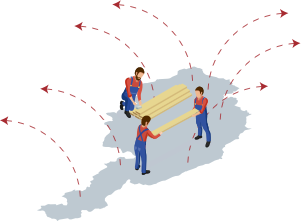 AUSTRIAN PARTICIPATION IN
81% of ISO technical committees
100% of CEN technical committees
51 international committees and working groups are managed by Austrian Standards: 22 for ISO, 29 for CEN
Statistics
"Number is the within of all things," said Pythagoras. Our numbers illustrate key facts of 2019: stakeholders, results, trends.
ORGANIZATIONS NOMINATING PARTICIPANTS – TOTALS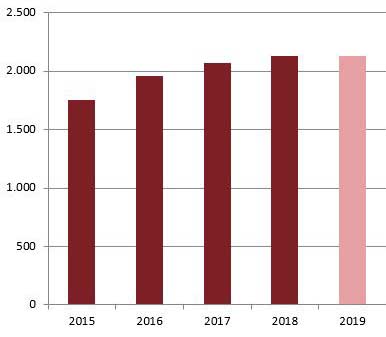 NOMINATING ORGANIZATIONS (PERCENTAGES)
PARTICIPANTS IN COMMITTEES AND WORKING GROUPS IN TOTAL (2015 – 2019)
NEW PARTICIPANTS IN COMMITTEES AND WORKING GROUPS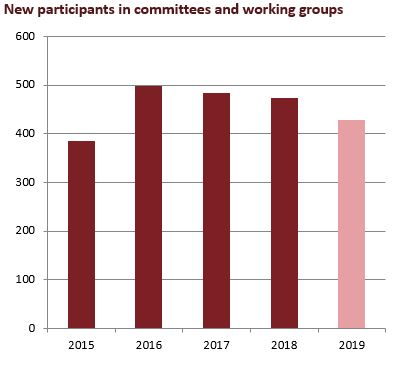 22 590 ÖNORM STANDARDS IN TOTAL (2019)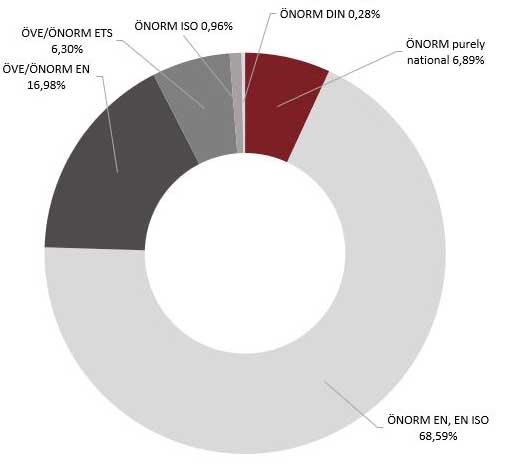 NEW ÖNORM STANDARDS (2019)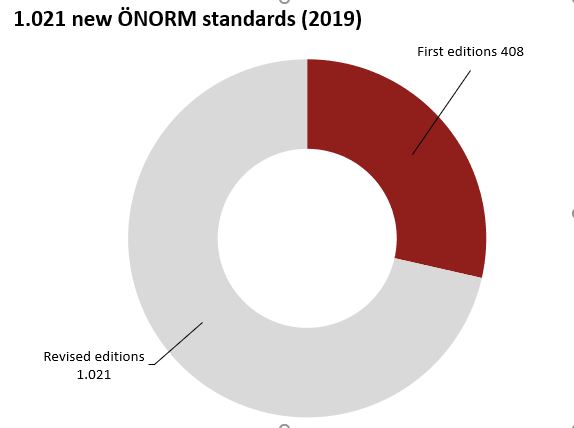 NEW SUBJECTS — NEW COMMITTEES
Bei CEN und ISO wurden 2019 insgesamt 11 neue Komitees gegründet.
CEN:
Food Authenticity
Public Procurement
Regulated chemicals in products
Microbiology of the food chain
Small Craft
Sustainable and Smart Cities and Communities
Non automatic weighing instruments
Blockchain and Distributed Ledger Technologies
ISO:
Sharing economy
Sex toys Design and safety requirements
Machinery intended for use with foodstuffs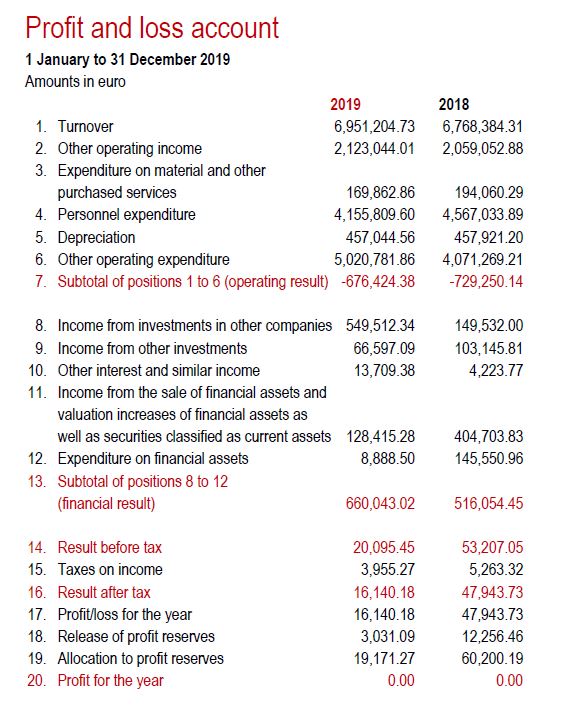 The profit and loss account of Austrian Standards International shows a positive result before tax in 2019. There were no special extraordinary events in day-to-day operations during the business year.
In 2019, turnover increased by around 0.2 million euro against the previous year. Other operating income was essentially made up of membership fees (around 0.2 million euro) as well as financial contributions made by the federal government and the provinces (1.4 million euro) and the Austrian Federal Economic Chamber (0.2 million euro) and contributions to international research projects (0.2 million euro).
Overall, expenditure fell in 2019 against 2018. The reduction was primarily owed to lower personnel expenditure (and a change in the breakdown of personnel costs and other operating expenses resulting from tax law).
The operating result amounted to around minus 0.7 million euro in 2019. Hence, it decreased against the previous year.
At around 0.7 million euro, the financial result was positive in 2019 and higher than the one achieved in the previous year.
Thus, the result before tax was slightly positive for 2019.