How to winterize your car
Rain, fog, slushy snow and ice are typical conditions for driving in winter and often cause breakdowns. Here are important tips for trouble-free driving in spite of adverse road conditions during winter.
Optimum tyres
Regularly check the air pressure of your car's tyres to make sure that their siped treads can work properly. You can do that easily the next time you fill up your car as portable tyre pressure gauges are available at filling stations. Thanks to ÖNORM EN 12645 on tyre pressure measuring instruments, they are robust and carefully designed guaranteeing proper measurement accuracy.
To ensure that the pressure measured can be easily read, the ÖNORM standard requires that:
The pointer of the dial must not be thicker than the scale marks, and
Every fifth mark has to be longer than the other marks.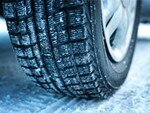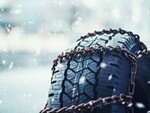 Ready for fitting snow chains
When roads are covered by snow, you are obliged to use snow chains. Be sure to choose a high-quality product when you buy chains. They should be easy to handle, have a long life and ensure good traction in all conditions.
These requirements are met by snow chains marked "ÖNORM V 5117 geprüft".
Battery and jumper cables
Check your car's battery already before the first frosty nights. Defective or discharged batteries still are the most frequent cause of car breakdowns.

The general requirements, test methods and markings of lead-acid starter batteries are defined in ÖVE/ÖNORM EN 50342. Although modern batteries largely require little maintenance, they should be prepared for extreme loads in winter. It is advisable to clean the terminals with a moist cloth and have the acid level checked by an expert. After approximately five years, you will usually have to get a new battery.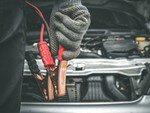 If the engine struggles to start even in the case of light frost, the battery has to be checked to avoid trouble in really cold nights. If you have to use jumper cables, make sure before connecting two batteries that
the batteries have the same nominal voltage (usually 12 Volt),
the two cars are not in contact, and
the ignition and all power-consuming devices (e.g. headlights, radio) are switched off in both cars.
Headlights & co.
Check the lighting system of your car. Verify that all lights, including indicators and fog light, work properly. In most cases, you will be able to replace defective lamps yourself.

The technical requirements for the interchangeability of lamps are defined in OVE EN 60809 (Lamps for road vehicles). This standard applies to lamps for use in headlights, fog lights and signalling lamps (stop lights, indicators) of road vehicles.
Performance requirements for these lamps are laid down in OVE EN 60810. In addition, it is recommendable to regularly clean the headlamps. After just a 30-minute drive on a dirty road, the headlamps will be soiled by more than 60 percent and, as a result, will emit less light.
Keeping a clear vision
Add antifreeze to the windscreen washer system and then actuate the system so that the frost-resistant mix is immediately distributed to all hoses.
The mixing ratio of antifreeze and water depends on the temperature: use one part of antifreeze and one part of water for temperatures down to minus 8 °C, two parts of antifreeze and one part of water down to minus 15 °C and pure antifreeze down to minus 30 °C.
Engine oil and seals
Regularly check the engine oil and switch from summer products to winter engine oil when it is extremely cold. This prevents your engine from faltering in winter.

To make using your car easier during the grim winter months, you may protect the door seals against frost by applying glycerine, silicone, talcum or deer tallow. This prevents the rubber seal from freezing to the car body.
You can conserve door locks using graphite spray. Many people unlock their cars by remote control. Just in case that the battery should fail in winter, you better not put the de-icer for the door locks into the glove box and keep an ice scraper, snow brush and gloves handy.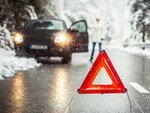 High-vis vest and first-aid kit
One thing you must not forget is a high-vis vest according to ÖNORM EN ISO 20471,
as you must absolutely wear it when you leave your car in case of a breakdown or accident so that you are better visible for other road users.
Check your first-aid kit for completeness. Verify that wound dressings did not suffer under the high temperatures during summer. If the material contained in the kit is all right, also make sure to keep the kit in a place so that it is ready to hand. ÖNORM V 5101 "First-aid equipment for multi-track motor vehicles" describes a sensible and practical set of materials to be included in a first-aid kit for cars.