With "energy" into the future – environmental protection, circular economy, renewable energies
Climate change and environmental protection are critical issues for consumers, industry and policymaking.
How can consumers maintain their standard of living while protecting the environment? "Circular economy" is an important watchword to counter the prevailing "throw-away economy" here.
Emissions
In Europa, emissions have significantly decreased in recent years. One of the reasons was the package of measures presented by the European Commission to improve air quality in Europe. It includes the review of directives on air quality and national emission ceilings that define limits for certain pollutants.
Operators of power plants, waste incinerators and industrial plants use continuous measurement systems to monitor gaseous and particulate emission levels. Three Austrian standards – ÖNORM M 9411, ÖNORM M 9413 und ÖNORM M 9412- – ensure safety and reliability while ONR 19412-1 provides application guidance.
Emission measurements for optimized combustion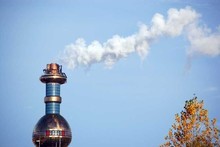 Credit: AS prm / stern
When different fuels are fired, the emissions contain carbon dioxide (CO2) and water vapour, but also other substances such as particulate matter, oxides of nitrogen and carbon monoxide. Limits are defined for those substances in order to protect the environment and to optimize combustion in the firing plants. Continuous measurements and records documenting how concentrations of gaseous and particulate emissions develop over time ensure compliance with the emission ceilings defined. Based on them, deficiencies in combustion can be recognized and remedied immediately. Standards guarantee the quality of measurement systems.
In Austria, the Regulation on Air Emission Measurements (EMV-L) requires the application of those standards and obliges operators to keep records of both measurement values and limit values.
Future energy supply
Renewable energies give hope for the future of energy supply. The Climate Change and Energy Package adopted by the European Union defines a 20 percent share of renewable energies in energy consumption as a legally binding objective. Austria gives special priority to solar thermal energy, i.e. the conversion of solar energy into usable thermal energy, and is one of the leading manufacturing countries in this field. Almost one in four collectors installed in the EU has been "made in Austria", and the high quality of Austrian products is in demand world-wide. Competition, however, increases and major players enter the market. Thus, quality control and proof of verified performance data become ever more important.
Credit: Austrian Institute of Technology
ÖNORM EN 12975-2 allows for testing conditions that are close to reality.
For the Austrian Institute of Technology (AIT), the Upper Austrian engineer Johann Brandmayr and AIT engineer Franz Helminger developed a highly efficient measurement technique that provides for the improved characterization of solar thermal collectors.
This technique did not change the testing process itself. What is new is the automated operation of test stands and that there is no need for continuous monitoring.
Renewable energies
Styrian KWB stands for innovation and sustainability in the field of renewable energy – also thanks to its involvement in standardization.
Kraft und Wärme aus Biomasse GmbH offers innovative premium heating solutions. Founded in 1994 by the biomass pioneer Dr. August Raggam as well as the mechanic and organic farmer Erwin Stubenschrott, the company is one of the leading manufacturers of log-wood, pellet and wood chip heating systems in Europe today. Moreover, the company group that is committed to sustainability actively participates in the development of new standards.
KWB-Geschäftsführer Erwin Stubenschrott, Credit: KWB
It all started with the vision of August Raggam. The "founding father" of Kraft und Wärme aus Biomasse GmbH (KWB) firmly believed that future generations would only be able to enjoy a liveable future on Earth if energy supply switched to 100 percent renewable energy. "This vision was and is our mission, and it also forms part of our corporate culture," says co-founder and KWB's Managing Director Erwin Stubenschrott. Green pioneer Raggam developed processes for the clean and efficient combustion of biomass as early as in the 1970s, and set up the research institute "Alternative Energy Generation" at the Graz University of Technology in 1985.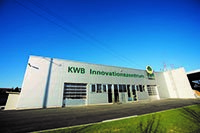 KWB-innovation center, Credit: KWB
The company's innovation centre has meanwhile developed into one of the leading private-sector facilities of this type all over Europe. There, 35 experts test existing and new products on 18 cutting-edge test benches.
Innovations designed by KWB, such as the rotary-grate combustion system and, more recently, the crawler burner with innovative combustion technology, could hardly be realized without standards.
Technical standards for fuels themselves and their safe storage are very important for innovative KWB. To ensure that pellets made from natural wood are still high-grade fuel after transport and intermediate storage, the national standards ÖNORM M 7136 and ÖNORM M 7137 define relevant requirements for quality assurance.
Owing to an ISO standard on fuels, companies find it easier to enter international markets.
To promote understanding of energy production and raw materials, KWB set up the future-oriented energy and raw materials centre (ZUERST) at its headquarters in Styria. In an energy display garden for alternative fuels from agriculture, research experiments related to fuel wood, agroforestry and humus formation are performed on an area of 23,000 m².
In addition, the centre demonstrates by examples how regional energy sovereignty can be achieved: by means of raw materials existing in the region and the use of optimally suited technologies. ZUERST illustrates the sustainable and forward-looking orientation of the company and attracts thousands of visitors each year.
Bibliography